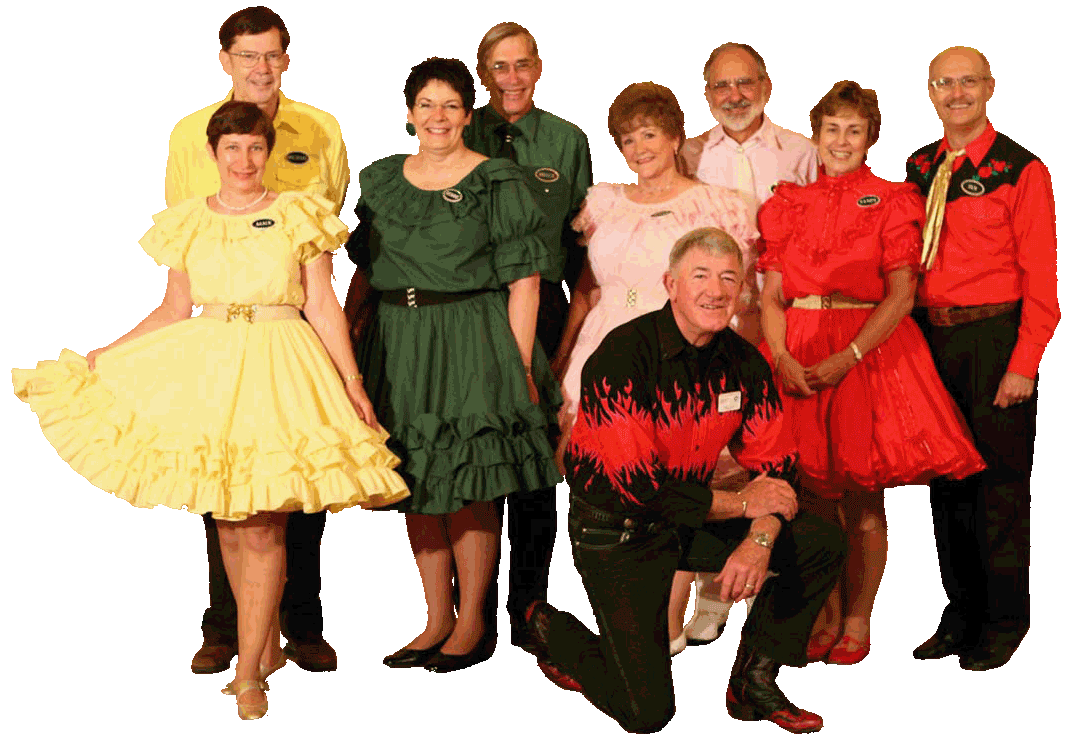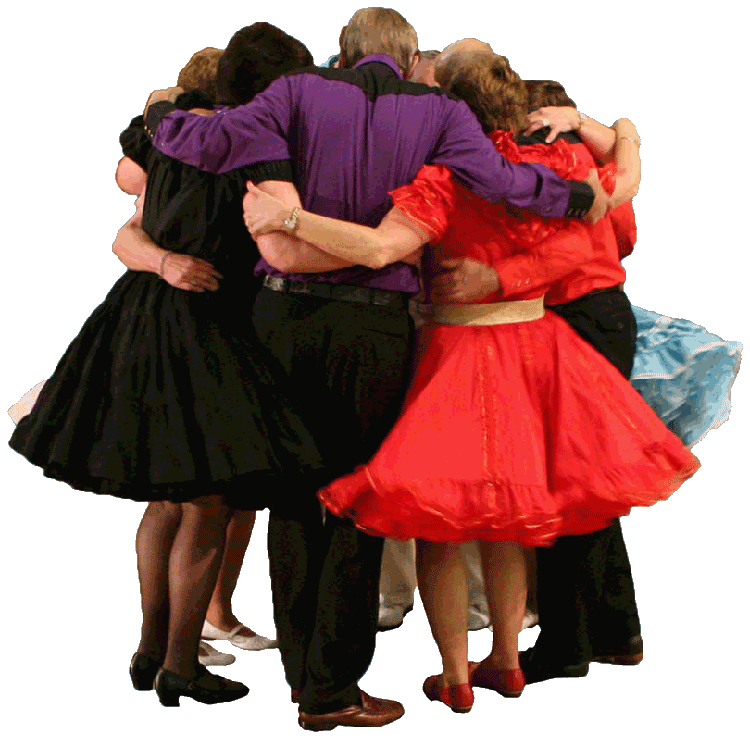 Square Dance Lessons and How to Square Dance Videos on DVD
---

Create and print square dance diplomas

A free square dance website - for your club or caller

Mainstream & Plus Reference DVDs* - learn to square dance

Square Dance DVDs and CDs - dance with us when no caller is available

Instant Hoedown DVDs - have a square dance party, easy square dance calls, no experience necessary!

Square dance music? Our Party Pack and Instant Hoedown include CDs of square dance music with calls

Square Dancing is alive and well - take a look at our world-wide sales!!
*Your caller is your instructor; our DVDs explain and demonstrate the square dance calls to help you learn.
Samples from our Mainstream DVD, Plus DVD, Square Dance Party DVD / CD set, and Instant Hoedown DVD / CD set; visit our video page for more videos.

If you have trouble playing a video here, try our YouTube page.
Sample Feedback and Reviews

Rose Marie, 4th Grade Music Instructor from Arizona - April 2015
"Our school ordered your square dance Instant Hoedown to be used as part of the fourth grade music concert. I was afraid that what I was asking for would turn out to be something entirely different. However, it was EXACTLY what I wanted! The students were a bit resistant at first, but after watching the video, practicing, watching again, practicing more, and finally getting it, they were extremely excited about music class. We all were quite happy about the ease with which the dances could be learned (once we figured out which way was left and which way was right. Ha Ha) The lessons were demonstrated very well and there was never any doubt as to what was expected. The audiences that we performed for thoroughly enjoyed it. Several parents came up afterwards to thank me for teaching the kids the dances. I asked the kids today if I had a square dance club for an afterschool activity, how many would go. Many hands went up. I sincerely hope I can "swing" that for a club next fall (no pun intended). Thank you very much for your instructional DVD and CD of music."
Hugh & Dede from Florida - April 2015
"AWESOME... when starting lessons at Whirl & Twirl Square Dance Club, I purchased the Traveling Hoedowners Instructional DVDs (mainstream & plus). They are sooooo helpful. I am able to watch the dancers over and over. Our caller teaches us the steps, but having the DVDs to see how it is done is such a helpful tool to becoming a better dancer. The DVDs are excellently done - easy to understand, encouraging to watch. Thank You to The Traveling Hoedowners for taking the time and effort to make the instructional DVDs for beginners and for those who need a refresher course."
Joachim from Germany - March 2015
"I live in South Germany and am a student in square dancing. My graduation will be in May and I hope I will pass. I bought your Instant Hoedown, Mainstream Reference, and your Square Dance Party Pack. Your DVDs are very helpful. I like to carry your Mainstream Reference with me for better learning."
Lori from The Wisconsin Squares - February 2015
"WOW! the DVDs are absolutely wonderful! we meet at my Aunt's and practice with Friends! The DVDs (Mainstream & Instant Hoedown) are EASY to follow and we have A BLAST ... Money Well Spent!"
Karen & Harry from California - July 2014
"Neither of us could have continued dancing without the DVDs we purchased from Traveling Hoedowners. You have become our second family of square dancers although we have never met. It took us forever to feel comfortable dancing Plus, but I would say we finally are ok with Plus and Hoedowns and we love square dancing. Your DVDs were priceless for us. Enjoy, dance often, and stay square."
Elizabeth from Georgia - March 2014
"I'm so keen to dance at the plus level, and the instruction on your Plus Reference DVD is so much better than anything I can get locally - plus I can go at my own pace with it."
Judy from Ontario, Canada - March 2014
"We ordered your Instant Hoedown a few months ago and we have learned a lot and are really enjoying it. We want to continue learning so would now like to order your Mainstream and Plus Reference DVDs!"
Renzie from Florida - February 2014
"I had not square danced in 25 years. I had to take a trip out to California and I watched your Mainstream and Plus Reference DVDs on my flights out and back. When I got home I was square dancing again!"
Vanessa from New York - February 2014
"I stumbled upon the Traveling Hoedowners website a few years ago while looking for music with cues to implement into my Physical Education classes. It was a gold mine of a find! Students who were not familiar or interested in square dancing or line dancing opened up to explore different dances with smiles on their faces! As a teacher, the breakdown of the calls within the songs and the additional visual support of the DVDs helps all learners and clearly fits into the common core standards! Excellent job! Keep up the good work!"
Angela from Missouri - February 2014
"The DVDs came in less than a week, perfect condition - and they are SO MUCH FUN!! I would definitely order from the Traveling Hoedowners again!!"
Renton from Canada - January 2014
"I am a customer who has purchased a pack of 10 DVD/CDs with which we have been having loads of fun. The Instant Hoedown sets are being used by our beginners. Our senior PLUS group is now getting in shape for the Canadian Square Dance Convention which is being held down the road in Ottawa this July. We have been having a ball with the Plus calls in the Square Dance Party set. Many thanks to the Traveling Hoedowners for all the fun we've had so far."
Grace from New York - January 2014
"We have your Plus Reference DVD and your Party Pack. We also have a Mainstream DVD from one of your competitors, but we want to order your Mainstream Reference DVD. My husband is a senior citizen and he always falls asleep while watching your competitor's product, but he is alert and interested while watching your DVDs!"
Read more endorsements & testimonials for our products
Even if you have never square danced, you can hold a western themed party or square dance party using our Instant Hoedown DVD / CD set. Are you taking a square dance class? Use our mainstream video and plus video to review and supplement your square dancing lessons. Before you buy any other square dance instructional video, please view the sample chapters from our instructional DVDs and read our endorsements & testimonials. Square dance tapes do not offer instant access to the square dance calls you want to review. We know of no other product that lets you see live dancers with a downward angle for a clear view of what is going on, along with closeups as necessary to clearly demonstrate the square dance calls. Learn to square dance, have fun, and get exercise all at the same time! The Traveling Hoedowners square dance group has helped dancers in every state and in over 20 countries around the world.
Popup blockers may
block the certification message;
right-click and open in a new window.



XHTML Validator will report 9 errors from code outside of our control
CSS Validator will report 18 errors from code outside of our control

© 2008-2015 The Traveling Hoedowners
Our counters started at zero on the date specified
Square Dancing | Square Dance Lessons | Square Dance Calls | Instruction | Videos | DVDs